Cygnet Health Care wanted to become a magnet for recruiting the very best people and keep them once they had joined. We helped them create an employer brand identity to communicate effectively with colleagues – and attract great candidates in the recruitment marketplace.

A brand to match the reputation.
Cygnet Health Care have built a reputation for delivering pioneering services and outstanding outcomes for the people in their care. We were tasked with helping them tell this story and to define and communicate what makes them a great company to work for.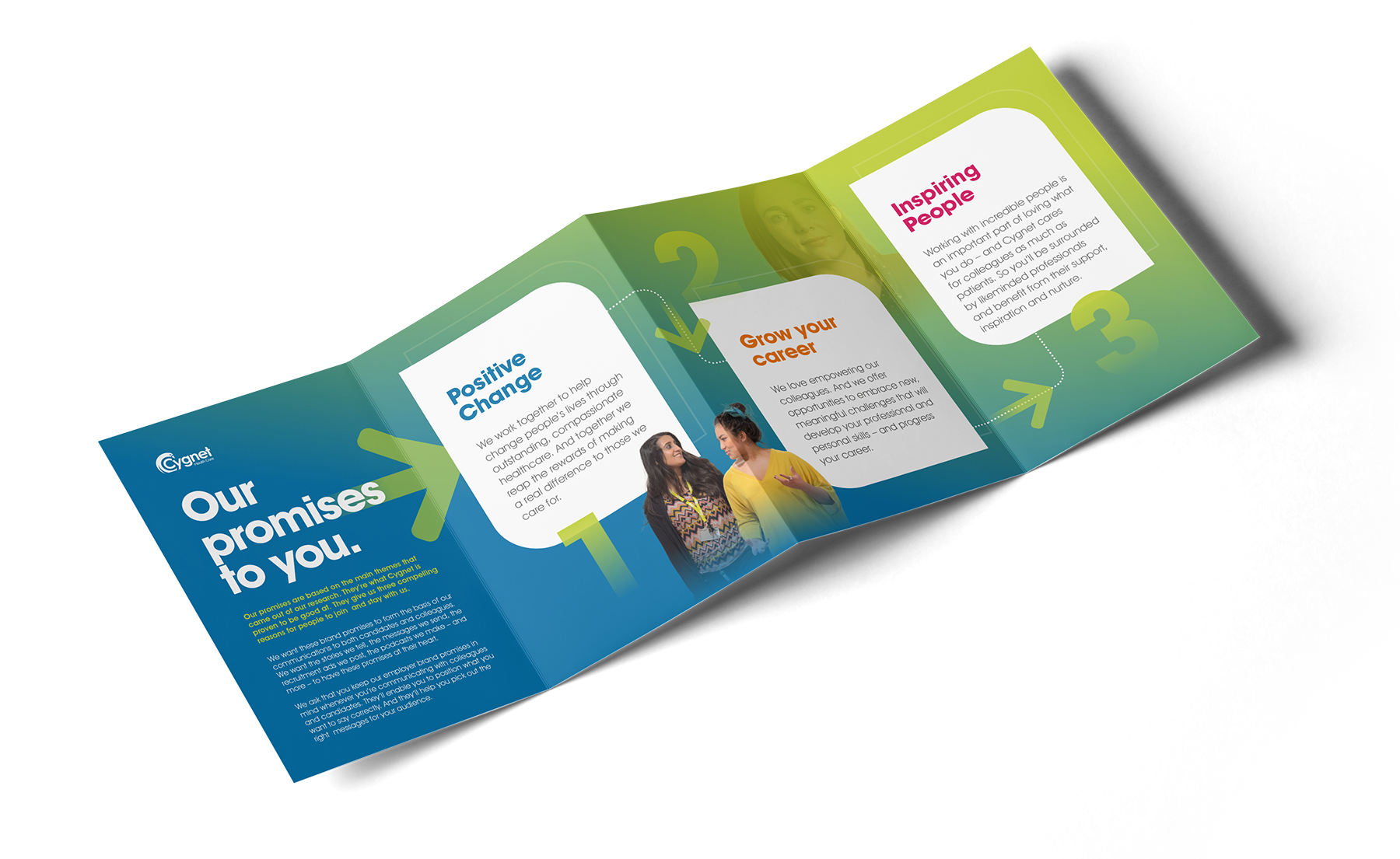 Developing a core proposition.
Firstly we needed to do some digging. We started by speaking to Cygnet colleagues all over the country. We talked to nurses, care workers, psychologists, chefs, receptionists – and a positive picture soon emerged. For all the challenges they face, their people are proud and happy to be part of Cygnet. From this we developed a range of ideas for Cygnets EVP and Employer Brand. 
'Life changing careers' encapsulated the way in which Cygnet people help to positively change the lives of others. And the way in which working at Cygnet positively changes the lives of their people. In other words, it's a powerful message. So now you know what it is and where it came from, let's look at how we brought it to life.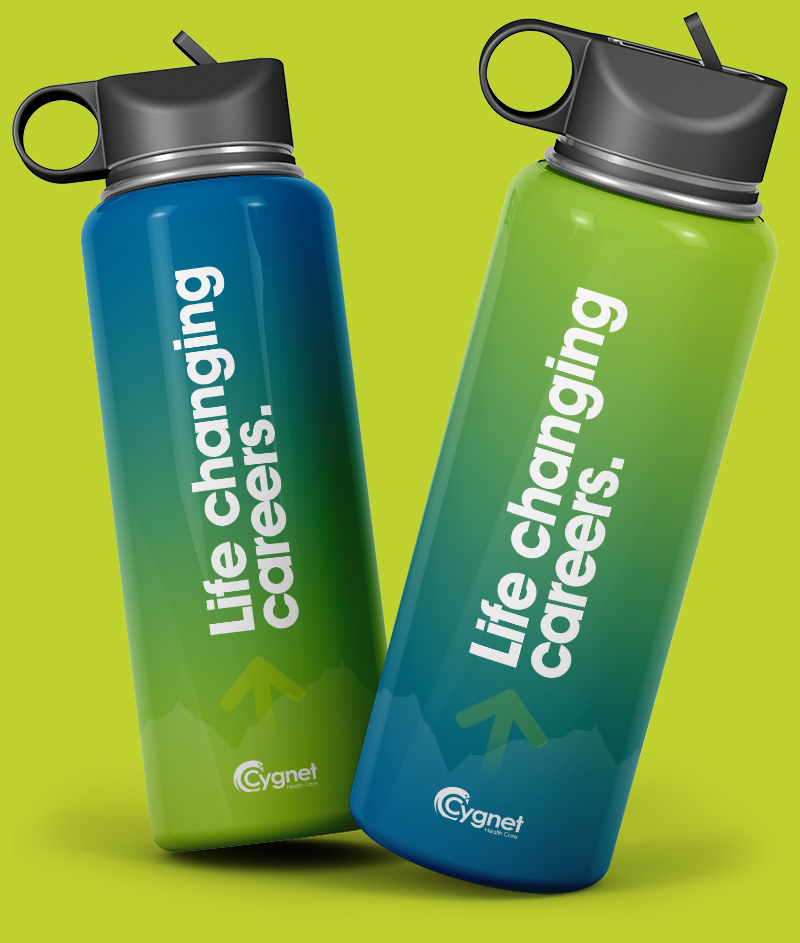 The employer brand identity was created to have a distinct but complementary look and feel to their corporate brand. We wanted to communicate with colleagues and candidates in a different way to how they communicate with customers – but still have the same values at the heart of both. The new employer brand identity is now appearing in all attraction materials and every touchpoint along the employee lifecycle.
A consistent visual across a variety of platforms.
With so much work being put into creating a brand that attracts potential candidates, it was important that the visual identity was brought to life on campaign landing pages, to bring a consistent user experience to the full journey, from attraction to hire and beyond.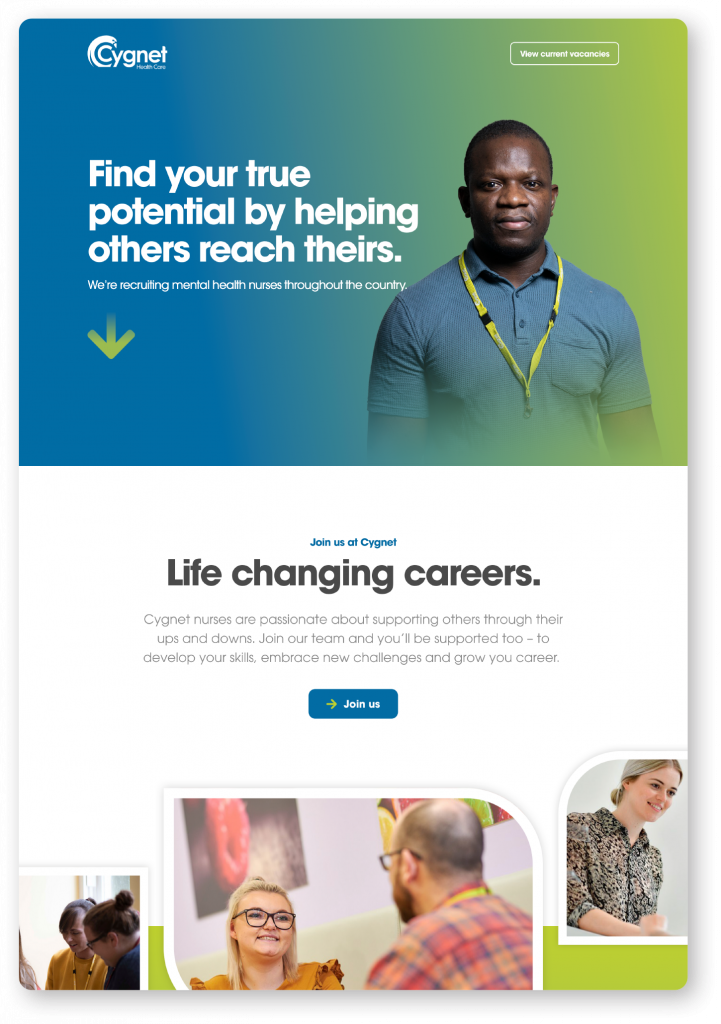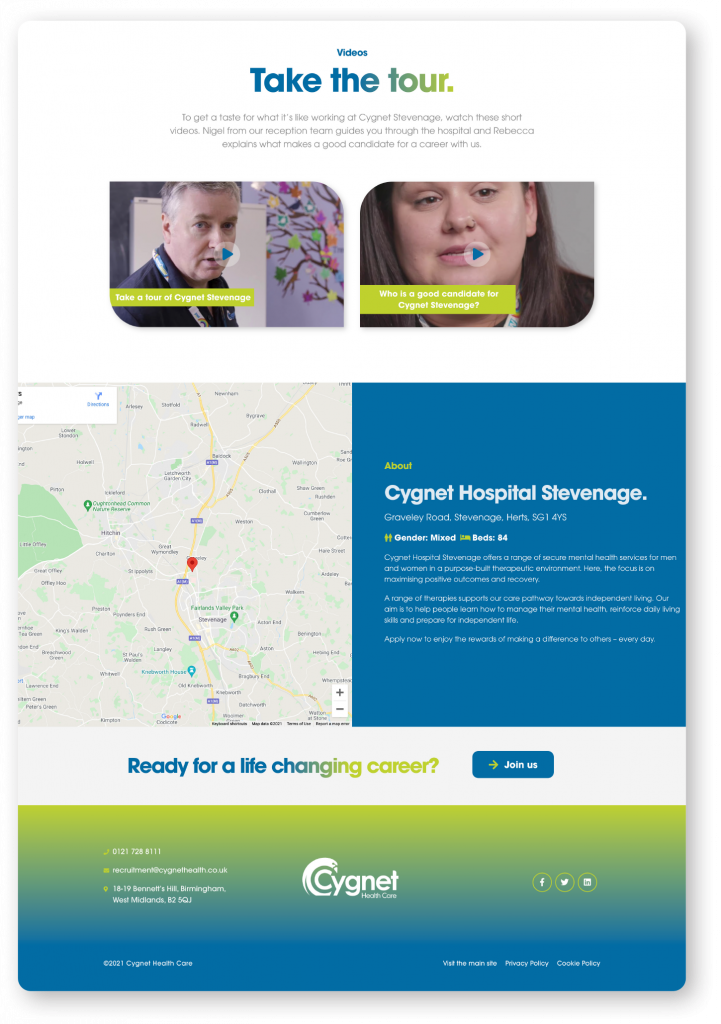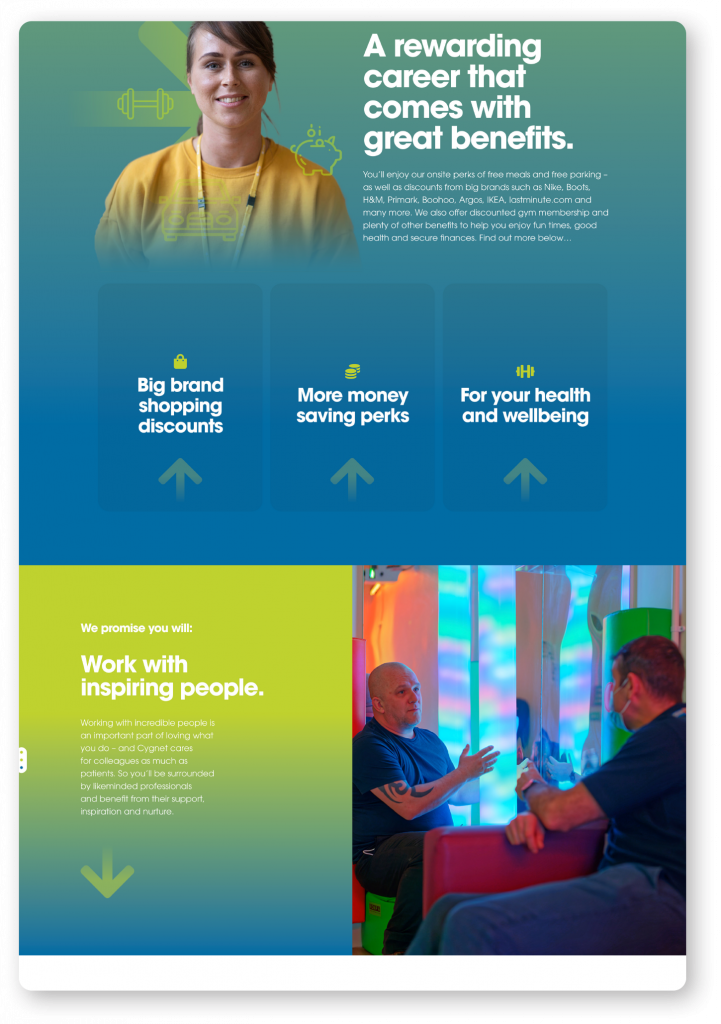 Getting the word out with social.
Having traditionally recruited for roles through recruitment consultants, Cygnet asked us to support them in building a direct attraction campaign aimed at Nurses and care & support workers. We recommended an advertising campaign that combined job boards, search and social media pay-per-click, programmatic and re-targeting advertising. All traffic was directed towards dedicated landing pages developed specifically to support the recruitment of these roles.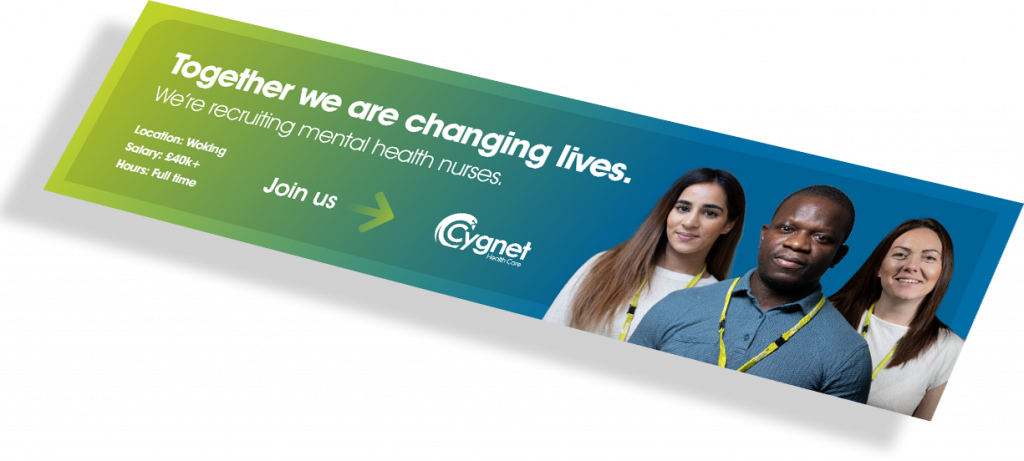 It's rewarding work that gives people a sense of purpose and satisfaction – so the photography we used needed to capture this.
We used a mix of lifestyle and profile shots to capture real colleague experiences at Cygnet and developed audience led careers messaging with lots of engaging candidate facing content.
A MEMORABLE EMPLOYER BRAND
Together, we created a memorable employer brand and identity which captured and conveyed the employment experience. The recruitment collateral and internal communications, works well and provides a genuine return on investment to Cygnet – not just in cost and time to hire, but in candidate and manager experience, measurability and much more.
The update to our employer brand has been an overwhelming success. It has been successful  externally by helping us engage and attract candidates, and internally, where it has helped us communicate with existing staff in an impactful and engaging way.